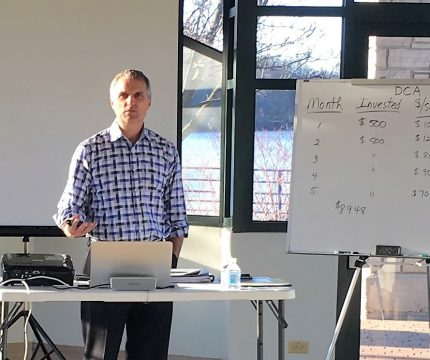 ABC Retirement Planning (2 week course)
When:
PART 1: Tuesday 6/13/2017 | 6:30pm - 8:45pm
PART 2: Tuesday 6/20/2017 | 6:30pm - 8:45pm
In this two class course, you will gain working knowledge of the principles of conservative investment strategies as they apply to retirement planning.  The materials cover planning paradigms, history of markets, impact of bear markets, retirement budgeting, aspects of financial decisions and more, while highlight the ABC Planning Model.  Increase awareness of the overall risk in the markets as well as possible asset allocation models to help manage exposure to risk.  This course covers conservative retirement planning, income planning, asset allocation and making appropriate financial decisions.  It is not designed to give specific solutions to individual needs.  This is not a financial seminar; this is a financial course of study where students will leave with the knowledge and confidence to make financial decisions suited to their level of risk and the goals they establish for themselves.  The fee per person or couple (or single bringing a friend) which includes one workbook and a textbook, "Social Security Made Simple."  
Suggested age for this class: 50 +
Class Fees
Batavia Resident $49
Batavia Non-Resident $56
Non-Resident $64
An extra workbook can be purchased for $19.
Class Registration
Course Code: 303000-1A
Online Registration:  www.bataviaparks.org
Register by phone:  630-879-5235