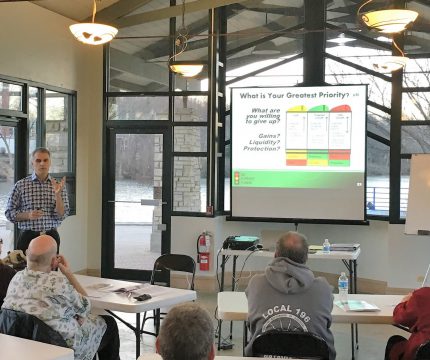 Maximizing Social Security
When:
Tuesday 6/6/2017 | 6:30pm-8:30pm
This workshop is designed for those looking for options of when and how to take their Social Security, which is one of the most valuable and least understood benefits available to retirees today.  Advanced planning is essential, and the decisions made have a tremendous impact on the total amount of benefits you receive over your lifetime.  This workshop will provide you with much needed information to help you understand the system, coordinate spousal and survivor benefits, minimize taxes, and maximize your personal benefits.  Attendees will receive a workbook.  Conducted in an east-to-understand format this course provides a fundamental working knowledge of the Social Security program as it applies to retirement planning.  The materials cover the history of Social Security, how to qualify for benefits, spousal benefits, widow & widower benefits, taxation of benefits, working while you receive benefits, issues involved in claiming benefits early, and strategies to maximize your benefits while developing an income stream in retirement.
Suggested age for this class: 50+
Class Fees
Batavia Resident $18
Batavia Non-Resident $21
Non-Resident $23
Class Registration
Course Code:  Tuesday 303014-1A  Thursday 303014-1B
Online Registration:  www.bataviaparks.org
Register by phone:  630-879-5235